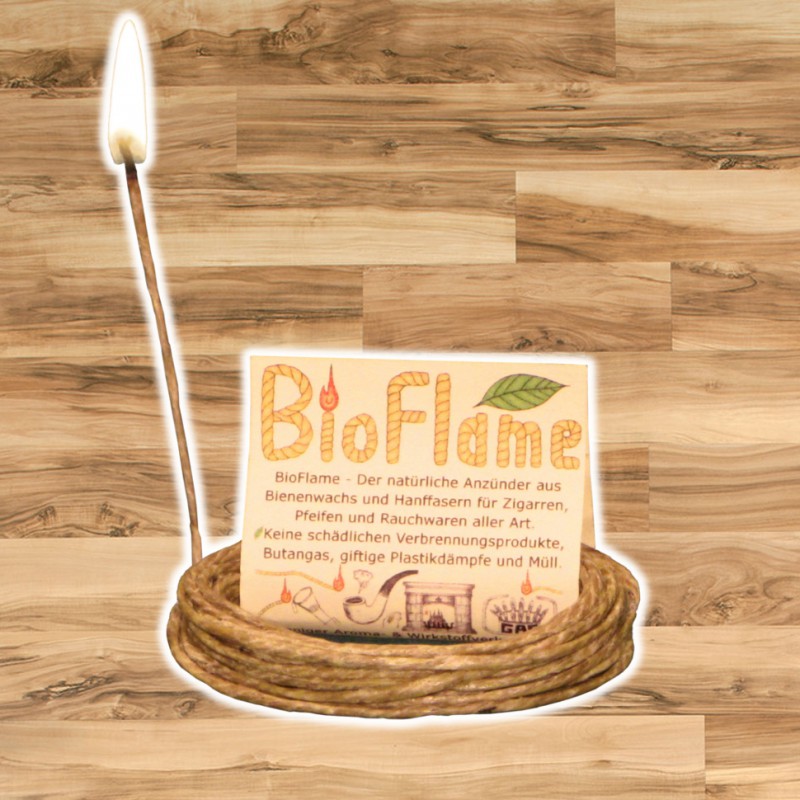  
BioFlame 420cm
BioFlame - Der natürliche Anzünder aus Hanffasern und Bienenwachs für Pfeifen,
Zigarren und Rauchwaren aller Art!
•Keine schädlichen Verbrennungsprodukte, Butangas, giftige Plastikdämpfe und Müll wie bei Feuerzeugen und Streichhölzern.
• Weniger Aroma- und Wirkstoffverlust durch niedrigere Flammentemperatur als bei Feuerzeugen.
•Dank seiner flexiblen Form auch ideal zum sicheren Anzünden von Gasherden, Kaminen, Räucherwaren, Kerzen an schwer erreichbaren Stellen, und als natürlicher Bindedraht-Ersatz zum Anbinden von Pflanzen.
• Immer die gewünschte Flammengröße.
• Für ein angenehmeres, entspannteres Rauchvergnügen.
• 100% natürlich und umweltfreundlich.
• Hergestellt in Deutschland.
• Etikett aus 100% recyceltem Altpapier.
• Zum Entflammen von BioFlame empfehlen wir einen per USB ladbaren "Arc-
Lighter"
Länge: 420cm
_______
BioFlame - The natural lighter of hemp fibers and beeswax for pipes, cigars and tobacco of all kinds!

• No harmful combustion products, butane gas, toxic plastic fumes and garbage like lighters and matches.

• Less flavor loss and active ingredient loss due to lower flame temperature than lighters.

• Thanks to its flexible shape, it is also ideal for safely igniting gas stoves, fireplaces, incense, candles in hard-to-reach places, and as a natural binding wire replacement for plant attachment.
• Always the desired flame size.

• For a more pleasant, relaxed smoking pleasure.

• 100% natural and environmentally friendly.

• Made in Germany.

• Label made from 100% recycled waste paper.

• To ignite BioFlame we recommend a USB-loadable "Arc-Lighter".
• Length: 420cm / 165,3 inches